Over the weekend I found a treasure for a bargain
All this great music for just $1.  I couldn't believe no one had snatched this up yet. There were pieces that were from the 50′s and 60′s from the likes of Frank Sinatra and Bing Crosby. What a score. Now my piano playing days are long gone but I knew this would make for some great art! I had just seen this great tutorial on line a few days before at Graphics Fairy.
While I have a lot of vintage suitcases, I don't have a little one like this. So until I do, I made some cards out of some music pages.
I'm linking this up with At Home With K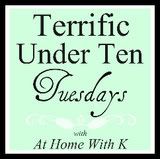 and also with
and